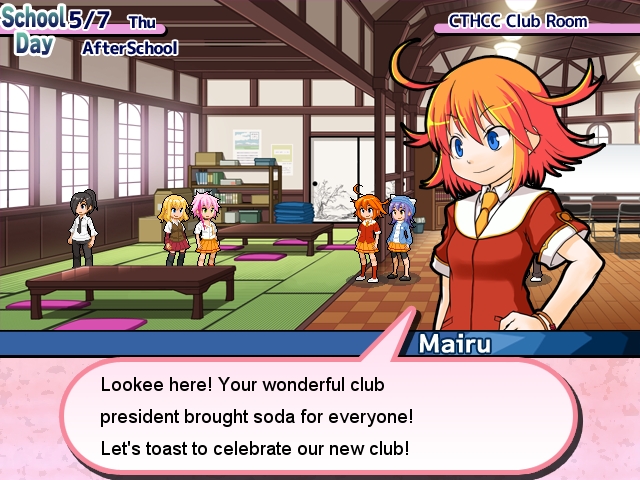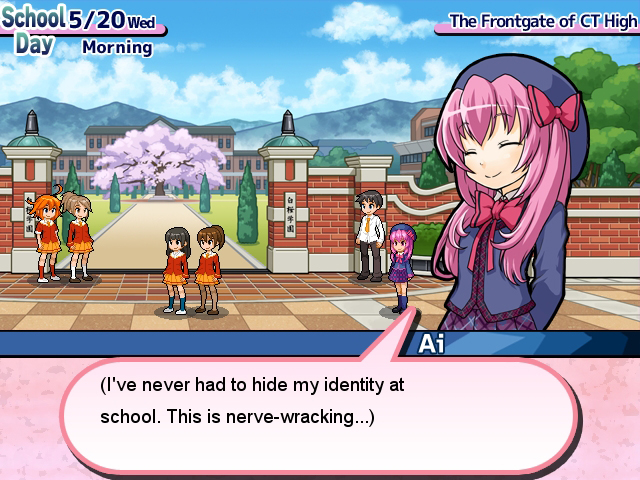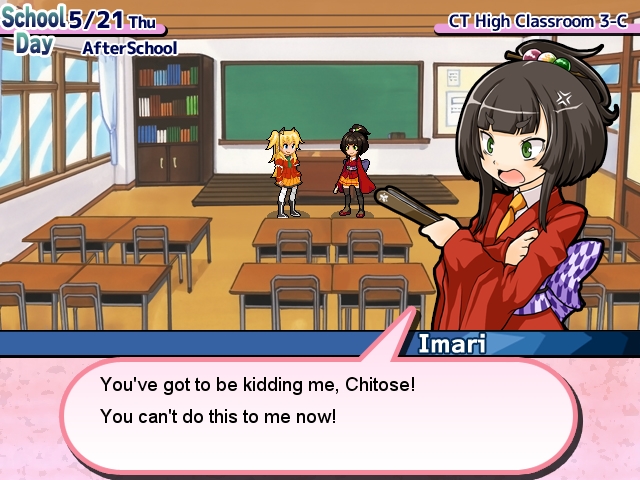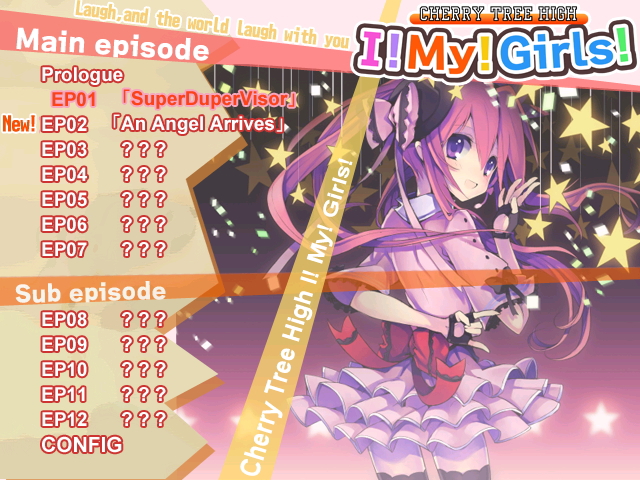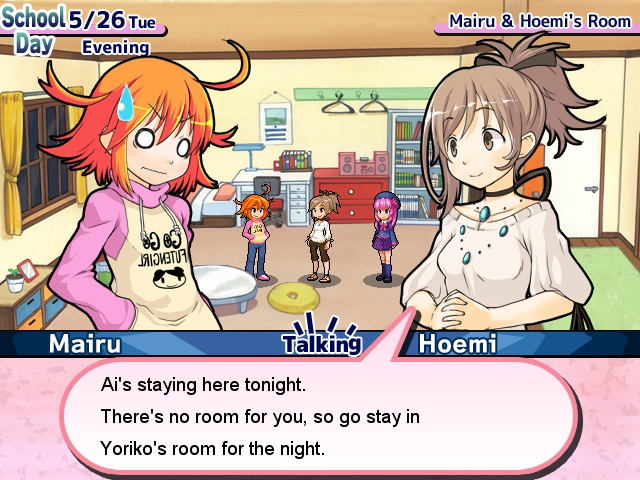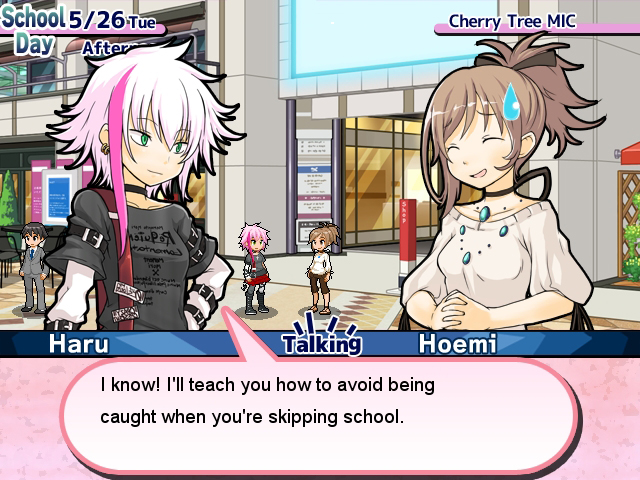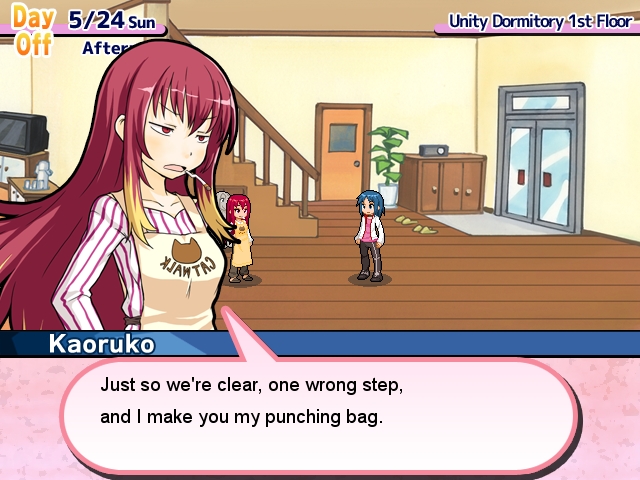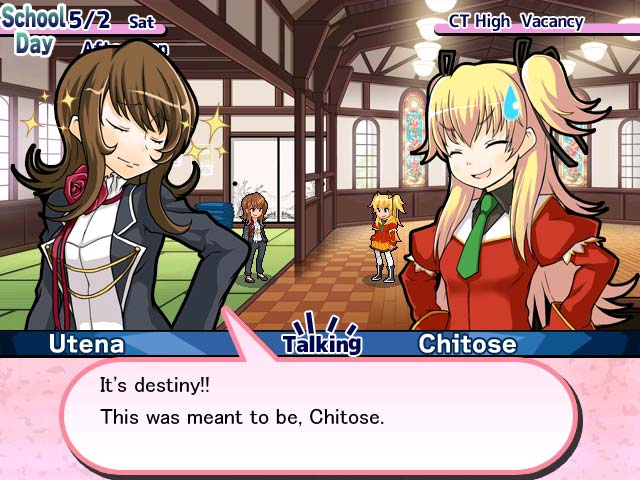 Download links for Cherry Tree High I! My! Girls! PC game
How to download?
About the game
STARTING A CLUB IS ONE THING... RUNNING A CLUB IS A WHOLE OTHER STORY!
Cherry Tree High I! My! Girls! is the sequel to the popular slice-of-life adventure game Cherry Tree High Comedy Club by developer 773, and picks up the story where Cherry Tree High Comedy Club left off, but this time as a kinetic (single story branch) visual novel and adds new areas, new music, and three new characters to the roster!
Overview
Now that Mairu and friends have successfully re-opened the club, they actually need to act like a club! Mairu's nemesis Chitose hasn't given up on closing them down just yet, so they'll need to be careful! But Chitose isn't the only problem that Mairu and friends have to face... A rival club is competing for the spot of number one entertainment club, and a new transfer student will forever affect the Comedy Club line-up!
*PLEASE NOTE* CTHIMG is definitely NOT the end of the Cherry Tree High story, and does leave a couple of major plot elements open for resolution in the next installment.
New Characters: Ai Fujino
Ai Fujino is the real-life and super-secret identity of the national pop idol 'Ai Towano'. Her wonderful singing ability, dancing sense, and cute looks have made Ai Towano nationally famous, but the glitz and production of her performances conceal her true identity, and her true name and private life have remained well-guarded secrets.
Despite her fame and adulation from fans, Ai aspires to be something more in life than a pop idol and, to fulfill that dream, she decides to transfer to Cherry Tree High School.
Imari Kobayashi
A third year student at Cherry Tree High School, Imari is the talented club president of the Classical Comedy Club. Under different circumstances, she and Mairu might have been the best of friends, but as head of the competing comedy club, they are now arch rivals.
Utena Katakura
A female teacher at Cherry Tree High School. Her poise and flair for drama have led to rumors that she once performed in a certain theater troupe.At any rate, she is a woman of irrepressible character and seems to be friends with the original Comedy Club founders then Grinmeisters, and also with Dina Delaney, manager of the Unity Dorm...
Features:
The Cherry Tree High Comedy Club story continues in linear visual novel format!
12 chapters: 7 main chapters and 5 sub-stories
3 new characters
New backgrounds
New music
2-3 hours of gameplay
Cherry Tree High I! My! Girls!
Localized & published by Nyu Media
Created by 773
About Nyu Media, Ltd.
Nyu Media, Ltd. is the world's leading localizer and publisher of independent Japanese video games. By combining high quality localizations, broad distribution and accessible price points, Nyu Media enables global gamers to fully enjoy excellent indie titles as well as support the indie game development in Japan.
For more information about Nyu Media and other quality Japanese indie games, visit or follow us at:
Homepage:
Facebook:
Twitter: @nyumedia
About 773
The Japanese development studio 773 (pronounced nanami in Japanese) consists of just one full-time member who goes by the handle Hizume and several members who contribute to development projects purely as required. Hizume oversees all development projects and personally heads up game design, script writing, screen design, etc. To date, 773 has released the murder mystery Enfant Terrible, Cherry Tree High Comedy Club, its sequel Cherry Tree High I! My! Girls!, and the visual novel Dead End Junction. Their latest project is a fighting game which takes place in Cherry Tree High School.
Homepage:
Minimum:
OS: Windows XP

Processor: Pentium 3 or better

Memory: 128 MB RAM

Storage: 95 MB available space
Recommended:
OS: Windows 7

Processor: Pentium 3 or better

Memory: 128 MB RAM

Storage: 95 MB available space